Benefits and Applications of Nylon & Polypropylene Camlock Fittings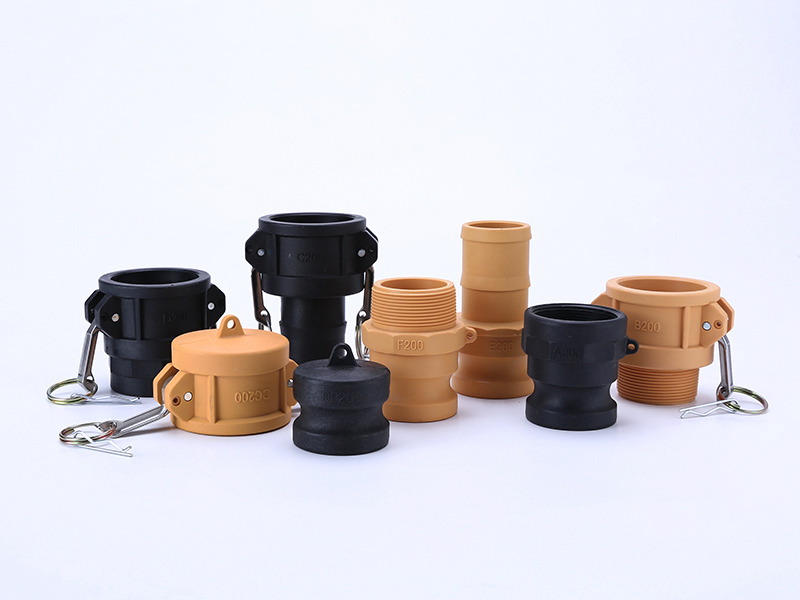 Nylon and Polypropylene Camlock fittings are the Camlock types that are chemically resistant, economical, and easy to handle. Departing from a focus on common materials of Camlock fittings, this post focuses exclusively on the sometimes overlooked nylon coupling and polypropylene coupling. On this page, we'll tell you about the benefits of these two materials, as well as solutions for Nylon and Polypropylene couplings in different situations.
A Quick View of Nylon Coupling and Polypropylene Coupling
Nylon couplings are compact and require no lubrication. They operate over a wide temperature range and are effective for chemicals, solvents, varnishes, inks, fertilizers, wastewater use.
The resilient nature of the nylon material makes the contact of the hubs and sleeves almost frictionless. Not requiring lubrication permits these couplings use to vertical and blind assembly applications. The slip-together components offer easy inspection and adjustment.
As for Polypropylene couplings, the manufacturing of UNION METAL Polypropylene Cam and groove couplings are according to standard A-A-59326(original standard Mil-C-27487), size from 1/2″ to 4″. Black Poly Camlock Fittings made of polypropylene reinforced with 25%-30% acid-resistant fiberglass, which makes PP Camlock coupling has excellent tolerance to most corrosive acids, bases, fertilizers, solvents, and wastewater. As a result, they are widely used to inhalation/discharge hoses for agricultural or industrial applications.
UNION METAL Nylon Camlock Fittings Applications
UNION has various types of Nyon Camlock fittings. Applicable type: A,B,C,D,E,F, DC,DP. Fiber-reinforced Nylon Camlock fittings are manufactured to MIL-C-27487 specifications and are interchangeable with other metal or plastic couplings.  Nylon cam lock fittings are very lightweight yet sturdy. Nylon Camlock fittings have good abrasion and chemical resistance. Therefore, they can come in direct contact with water, coolants, gasoline, and varnishes.
UNION METAL gasket materials and cam lock materials are compatible with a wide range of media. We supply PTFE, Buna, EPDM gaskets, and stainless steel handle pins and rings. Its designation is to connect pumps, tanks, and equipment to suction/discharge hoses quickly and safely. In agricultural applications, it doesn't recommend that people use acid-based fertilizers.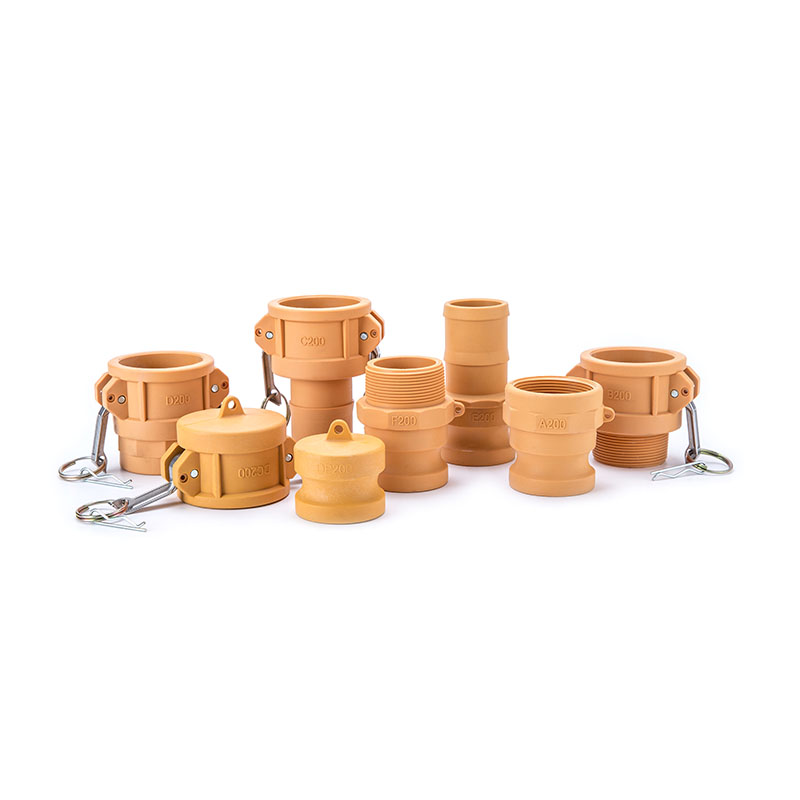 Operationally, UNION METAL Nylon Couplings provide one of the most economical and durable solutions. It can operate in ambient temperature environments up to l60°F. The non-lubricating nature of the Nylon Sleeve Coupling makes it easy to use in vertical applications and blind assembly. Install both hubs on the shaft, then place the sleeve with the ring in the center groove on one hub. When the connected unit is in place, the installation has done.
Nylon Camlock fittings usually work under low pressure of less than 100 psi. You can find the pressure according to the size. In addition, working pressure will decrease as the temperature increases.
Nylon sleeve couplings are often in applications similar to jaw couplings. If a customer requires better axial float, a more torsional stiffness coupling, or higher misalignment capabilities, nylon sleeve couplings can be a problem solution for claw couplings.

Operating Pressure:
| | |
| --- | --- |
| Size | Working Pressure |
| 1/2" – 2-1/2" | 100 Psi |
| 3" – 4" | 50 Psi |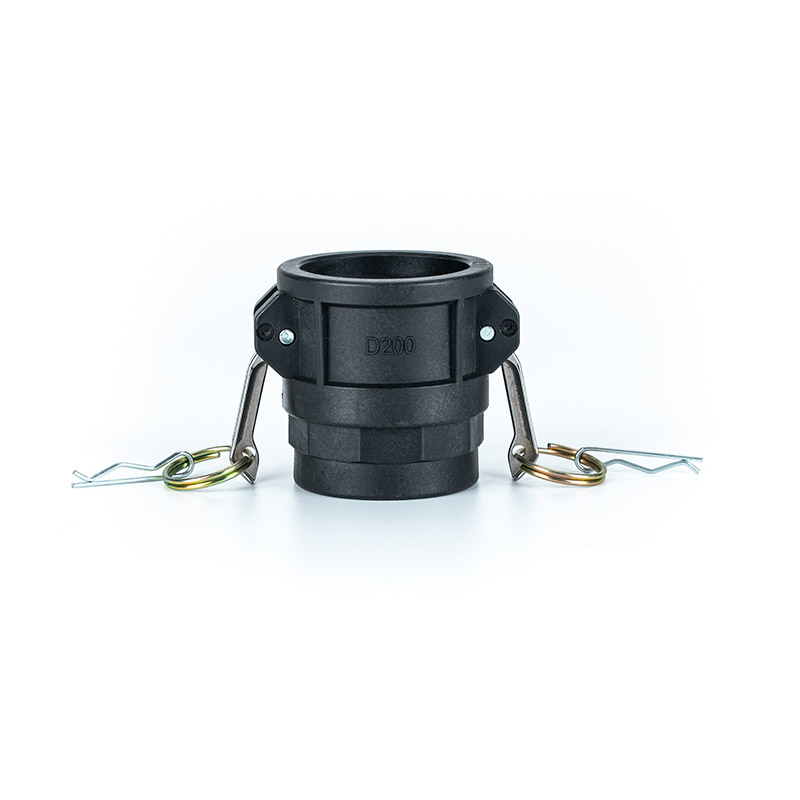 Operating Pressure:
The working pressure of polypropylene coupling depends on size and temperature. When temperature increases, operating pressure for polypropylene will decrease sharply.
| | |
| --- | --- |
| Size | Working Pressure |
| 1/2" – 2-1/2" | 100 Psi |
| 3" – 4" | 50 Psi |
Go to our polypropylene couplings pages and look for all types of PP Camlock fittings. Let us know your request and get a free quote.
UNION METAL Polypropylene Coupling Applications
UNION METAL has various types of Polypropylene Camlock fittings. We supply types from A to F. We also supply accessories like the female coupler dust cap, and the male adapter dust plugs.
The benefits of Polypropylene couplings are simple operation, cost-effectiveness, and excellent chemical resistance. Quick cam lock fittings are easy to install. Insert the adapter into the same size coupler while closing the handle in an even fashion. Polypropylene coupling is often in the situation that requires quick connect or disconnect operation, such as low-pressure suction or discharge hoses for fire pumps, IBC (Intermediate Bulk Container) containers. The black polypropylene cam lock has excellent chemical resistance to most aggressive chemicals and aggressive solvents., though black poly Camlock fittings are not as durable as a nylon Camlock.
Some things matter when using Polypropylene Camlock fittings. Since polypropylene coupling is not as strong as metal cam locks, should take care when crimping or installing the Camlock fittings as it can easily break or crush. All polypropylene couplings are not suitable for use with compressed air or gas. In pressure applications, don't use polypropylene dust caps and the plug.
Benefits From UNION METAL——A Professional Camlock Couplings Supplier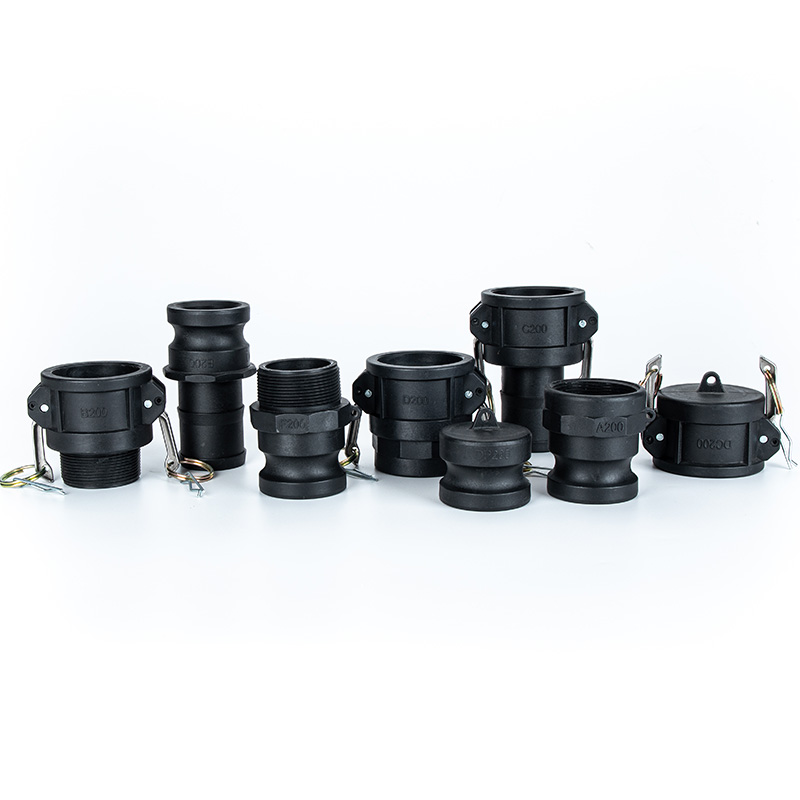 UNION METAL has 15-year experience in Camlock couplings supplying. We are committed to providing our customers with high quality, high specification, and affordable Camlock coupling products.
We support OEM Service, and the customizable content includes LOOG SIZE. We can customize distinctive products according to user requirements. We'll supply you with top-of-the-line aluminum cam lock couplings that ship immediately from our warehouse.
Regular models and sizes generally have no MOQ, and uncommon sizes have a MOQ of 50. It is a MOQ that is convenient for you to adjust your strategy without making people feel pressured.