Camlock Fittings Explanation
For All Things | Union
Introduction
We will explain all things about Camlock connectors, related accessories and their uses. Its purpose is to provide you with all the information you need for choosing the right accessories, understanding the application and maintenance.
What is a Camlock Fitting?
Cam lock accessories, also called cam and groove couplings, are very usefu, and reliable tools that you can use in many ways. In many areas, cam lock joints, also called cam groove joints, are used to connect two hoses or pipes. They can quickly and efficiently connect or disconnect hoses or pipes without the use of complex tools or equipment. They are very cost-effective, so they have become common couplings.
Cams and threaded couplings are used to distribute oil. It is used to connect pipe hoses for easy and safe delivery of oil to houses or service stations.
Ink, dye and paint manufacturing
The manufacturing process of paint, dye, and ink requires repeated replacement of pipes to find the most suitable combination. Camlock couplings can withstand the outer layer without suffering any damage.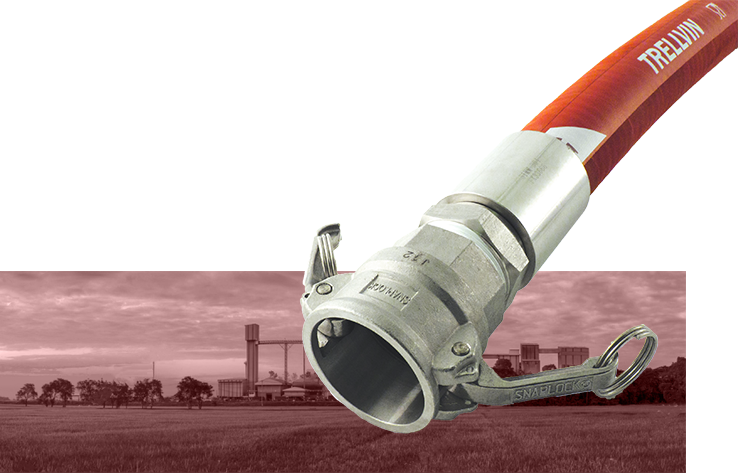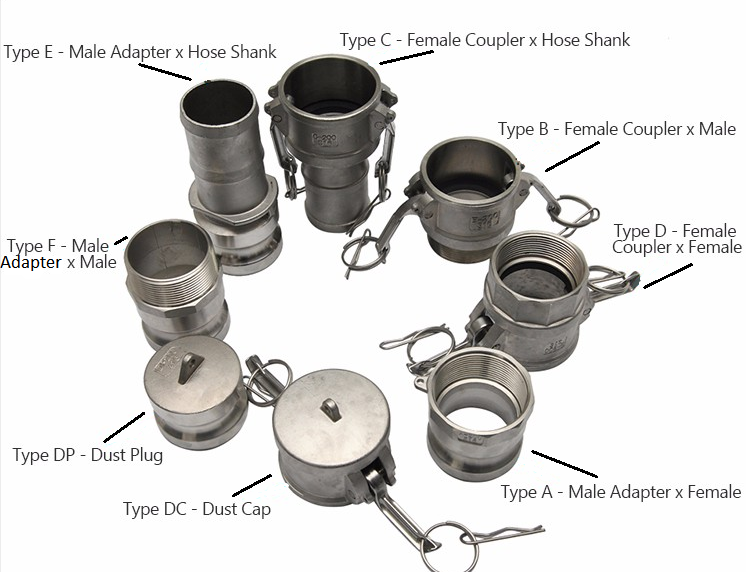 Cleaning products in the industry require the use of other pipes. Camlock couplings are used to connect pipes for easy storage, disconnect, and easily transport materials without causing any jams.
Since Camlock couplings are acid resistant, they are suitable for agricultural applications. It is used as a pipe connector on agricultural sprayers.
Camlock couplings can be used in pump connections. It is widely used in the combination of inlet, and outlet pumps.
Go to: Union Metal Product Pages
How Does a Camlock Work?
The adapter, coupler, and assembly, which include the handle, finger rings, pins, and safe clips, make up the Camlock connection. To begin, extend the cam arms, and gently slide the adapter into the coupler until it makes contact with the gasket. Then, while maintaining normal hand pressure, press the handle down.
Buna gaskets are standard for both metal and non-metal applications, and PTFE, EPDM, Nitrile, and silicone are also available. The coupler's performance might be harmed by gasket deterioration and excessive wear on the cam and groove. Inspection and servicing regularly will ensure effective and safe operation.
What Are the Specifications of a Camlock?
It is quite easy to measure metal cam lock fittings. For example, if the hose tail, external thread, or internal thread is 2", the cam lock connector will be called a 2" cam lock connector.
Polypropylene is slightly different. There is no international standard, and different manufacturers have different head sizes. In the ½" size, the main body is actually ¾", but its thread (or hose tail) is ½". There are also some anomalies in the 1 ¼" size system.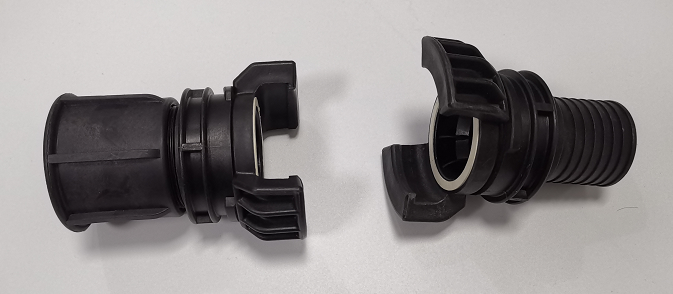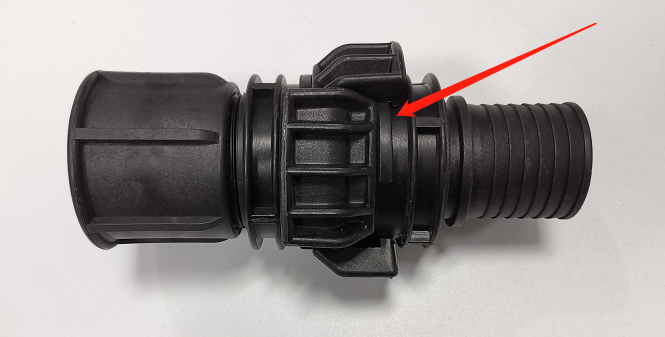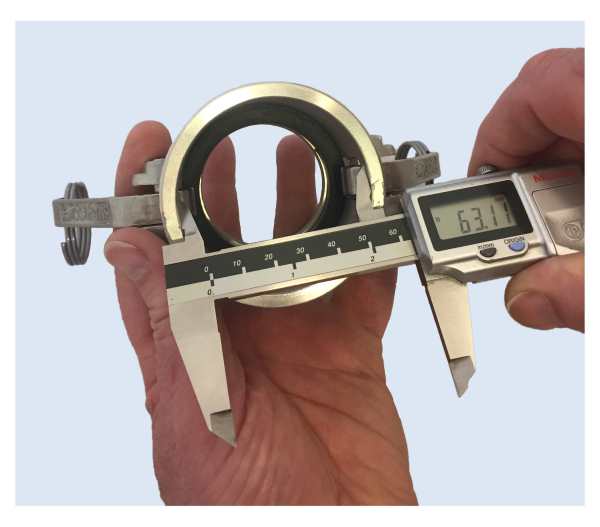 How To Measure Camlock Fittings?
When specifying accessories, seven fields of information are required. Its acronym is STAMPED, which stands for:
S-size

T-temperature

A-Application

M-material (or medium being used)

P-required pressure level

E-End fittings and connections (thread type)

D-Delivery (any additional content, such as material certificates
What Are The Limitations of Camlock in Practical Applications
Large serrations on hose handles are not compatible with ferrules or sleeves. If forged, the hose would be permanently damaged, and the larger shank serrations will cut into the hose's inner wall. Leaks and/or irreversible hose failure may result as a result of this.
Note: Cam and groove couplings must not be used in steam or compressed air applications.
Why Need High-Quality Camlock?
There are a lot of Camlock coupling manufacturers across the world, and you'd think that they'd all make them according to one of the approved standards, but experience tells us that this isn't always the case.
Products from reputable manufacturers are built to survive harsh environments and, if properly maintained, have a long service life. In the case of stainless steel, the material's origins can be traced.
Union Camlock Fittings
This section outlines the different types of fittings in Union Camlock. All these products are available from the supplier Union.
Check Union Metal Introduction and Union News
Union Camlock Fittings can transport liquids, powders, and granules, but it should be noted that they are not suitable for applications involving compressed air. For airlines that use compressed air and pneumatic applications, a different range of professional accessories can be used.
Each Union Camlock is made to industry standards, ensuring that the complete Union range can be used interchangeably with other cam locks made to the same standard. This eliminates the need to worry about compatibility or replacing numerous parts at the same time.
Union couplings are a low and medium-pressure quick-release coupling mechanism. They're utilized to connect and disconnect hoses fast and easily without the usage of hand tools. They take the place of the previously threaded couplings, which contain male and female threads and must be screwed together and tightened with a lug wrench to connect or disconnect the cable safely. Union Camlock is most typically used in agriculture and industries to securely and cleanly move diverse fluids.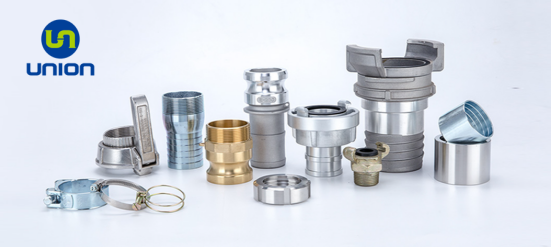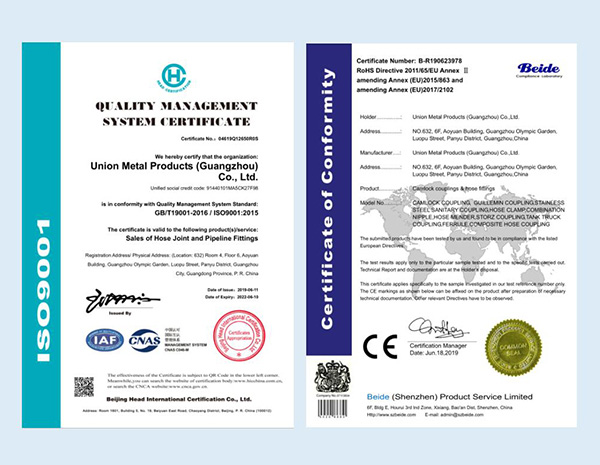 Union Camlock Fittings Specifications
Union couplings come with a series of seals, including nitrile rubber, EPDM, neoprene, and FEP/silicone encapsulation. Frequent maintenance and replacement of spare parts can extend the service life of cam lock accessories.
Camlock Safety And Preventive Maintenance
We propose that you design a dependable maintenance plan that includes regular checks of the cam locks. Camlock fittings feature easily wearable movable parts. As a result, they should be inspected regularly and worn parts replaced as needed. Replacing worn parts can help extend the product's life and guarantee that health and safety requirements are satisfied.
Go to: Camlock Fittings & Guillemin Couplings Pages